The Fall Collections were shown in Paris this past week.  I haven't read a thing about them, trying not to pollute myself with anyone else's opinion.  I want to be objective and decide what I think is fabulous on my own, dangit.  So I've looked through slideshows of my favorite designers' creations for this coming fall (my favorite season, fyi).  I'm going to take it one designer per post.  I've already shown some McQueen, so I'll move on to Chanel.  Of Karl Lagerfeld's offerings this year, these were my favorites:
There is a woman out there who can wear head-to-toe Chanel, and that woman is not me. But even Lagerfeld has said that he loves the mix-and-match thing that's gone down in recent years.  Realistically, that's how people dress, unless you're absolutely clueless and can't mix-and-match and then you're in head-to-toe Chanel and I can assure you, it's not as fabulous as you'd think it would be.  We're back to the black and white spat boot, which I am a bit of a sucker for, and I'm glad to see it in a knee length, as calf length is a little harder to pull off, never mind over-the-knee, which as I've mentioned before, is probably best left to amazonian model types.   I love that this suit jacket is so distinctly Chanel, but eschews the plaid that's all over the rest of the collection.  It's definitely a piece that can be worn on its own, with jeans or over a dress and can be fancied up or left to be quite casual.  The skirt is extremely high-waisted (another fall trend) and I'm not quite as crazy about it, though I really want to be.  A high-waisted pencil skirt can be the most flattering thing in the world, but I'm not sure this skirt does that.  It feels a little long and loose, even on the model, so it could be that - gasp! - a fuller figure is needed to fully appreciate its charms.  And I love black tights, for the record.  The fashionistas can go to hell on that one.  I love them, that's all there is to it.  I find they break up this outfit quite nicely.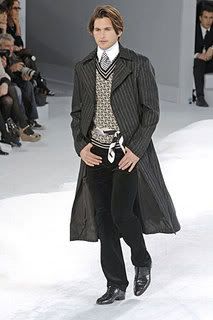 I liked this coat quite a bit, even though I generally don't like wide, chalk pinstripes.  The coat works with the outfit perfectly, though, and this is an instance where head-to-toe Chanel is quite fabulous indeed.  The different patterns work off each other perfectly, from the pinstripe to the patterned tie, to the sweater vest with the tweed/houndstooth print.  I can absolutely do without the scarf around his waist, but otherwise I'd consider this one a slam-dunk.  I work with someone who mixes patterns like this in his shirts, ties and suits and it's awesomely impressive.  It's a feat to do with color, where things run much more of a chance of clashing.  This black, white and coal grey palette is much easier to mix it up with, but it's still done very well. 
Of all the patterns that were present in this collection, I'd say this coat was my favorite.  It's absolutely wearable and I love the patent leather belt and the shorter sleeves. 
This coat I think should never have left the atelier, but the dress is adorable.  The empire waist and cute little pleats are a nice departure from the bubble-hems everywhere else.  (For the record, I have nothing against a bubble hem, but they are damn near ubiquitous at this point in time.)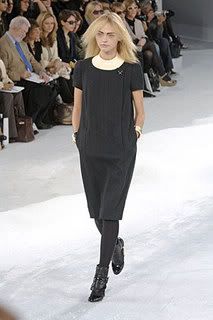 I kinda like this dress, too, even though with that crazy necklace around her neck it looks a little like a nun's habit.  But I like the slight puff in the sleeves and the pockets.  A girl would have to be very careful that she didn't end up looking like her grandmother in this dress.  This is an instance where the tights and boots don't help.  Some leg and a nice high heel are required to pull it off. 
It's a crime this coat was only shown on a man, but I'd rock it anyway.  
This is another strange dress I found myself admiring.  It's odd, alright, but I like it despite that.  It's got a lot going on, what with the bows and the belt and the velvet, but having owned a black velvet, satin trimmed Chanel skirt in the past, I know how absolutely exquisite the workmanship is and can only think that this would look stunning on the right person.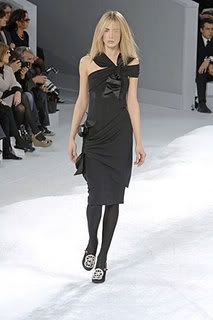 These two dresses (above and below) need to battle it out and have a fight over which one was the dominant "little black dress" in the collection.  They were my top picks.  Both are cocktail-event worthy and both can be glammed up to the nines. 
I'm not a huge bow person, trust me, but there's something about these black satin ones that doesn't scream "girly" to me as much as bows usually do.
All pics courtesy of the wonderfully useful and complete NY Mag fashion show section.  Go see for yourself, you don't believe me.  And no, they are not paying me.  Up next:  Yves Saint Laurent.  Toodles!