The beauty of reviewing the Fall collections is that it'll be at least a few months before this stuff starts showing up in magazines so I can take my time and give them the attention they deserve.  I think Stella McCartney is adorable, and lord knows her work at Chloe was among the best I've seen from that label, and I do give props to Phoebe Philo for being Stella's right hand and also taking over at Chloe when Stella went off to design her own label.  And now we get to said label, and I gotta say, I was kinda bored.  Volume is still in the cards for fall, so don't give away your oversized shirts and dresses just yet.  Grey is also a mainstay, and I'm still bored with it.  So yeah, my runway review can pretty much be summed up thus:  huge coats, lots of grey and black, one or two orange pieces, a pretty dress here and there and not much else that is really wearable.  Sorry, Stella.  Better luck next time? 
I can't throw the baby out with the bathwater, though.  There were some nice pieces and those are the ones I'll touch on. 
Lest you think I've lost my mind, I am in no way saying that skirt is anywhere in the near vicinity of okay.  But the jacket is very cute and practical.  I'd wear it right now, even though it's a fall piece.  I love the collar.  So cute!
Don't hate me because I love capes.  I do!  Most of the time I cringe when I see people wearing them because they're just not rocked like they should be.  It's fine with me if you really, really love the Middle Ages, but there is no need to nerdify the cape.  It's hot.  It's awesome.  It does not need any help in the nerd department, though.  What Stella does here (I guess we're on a first-name basis) is make the cape chic and crisp.  It's something I'd wear, if it were downsized for me. 
Which brings me to my main complaint about this show.  Stella McCartney is a tiny woman, and I think all of us shorties look at her and go, yay!  Someone who won't design stuff I can't wear cuz I'm not a glamazon gargantuan model!  And yet, no.  Most of the voluminous pieces looked too big on the towering models.  You know, there's a little fashion rule of thumb I go by and it's this:  If it looks bad on the model, it ain't gonna look good on me.  So that's a bit of a shame.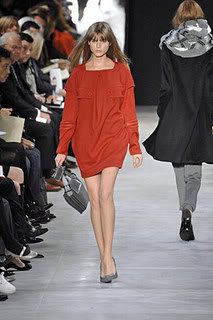 Finally!  A shot of color.  Orange was the only thing in the show that resembled bright, and there were only two pieces, this dress and a coat that I didn't like.  I guess with orange less is definitely more, but the design of this dress and the color totally work for me.  It's a little futuristic in the sleeves, and maybe it couldn't be worn if you have a huge rack, but as a cute little mini I like it very much.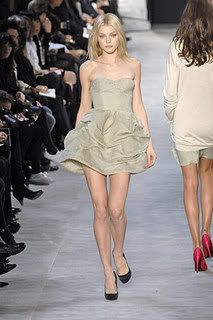 My favorite of the dresses.  And it's definitely something that's wearable for a lot of different body types.  You gotta have great legs, but if you don't you're not really looking at minidresses anyway.  I love the ruffled bottom (but that could just be my eighties childhood coming back to haunt me).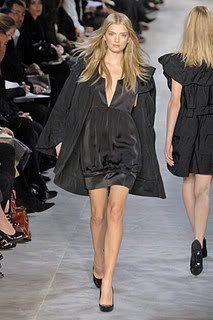 This was the cute Little Black Dress (LBD) of the collection.  Flirty, satiny, mini.  All the right things.  The down-to-there neckline appeals to my inner exhibitionist and the gathered hem is just one of my favorite things ever.  (Note to everyone:  I saw a girl in Spain with a denim gathered hem miniskirt and have tried all of this past year in vain to find one.  If you see any, let me know.)
So that's it, people.  There were some highlights but mostly I wasn't feeling it.  I wonder what the fashion editors will do in the Fall; what they'll feature.  I leave you with this:
Hate it?  Love it?  I'm on the fence.  It's a bit blah color-wise but the halter neckline could be flattering on the right person. 
Up next:  Vivienne Westwood.  Love her!!!!