I interrupt your regularly scheduled programming to bring you my current obsession and crisis:  finding the perfect platform or wedge dark brown leather sandal.  As usual, I know exactly what I want, and as usual, the people who make shoes refuse to bow to my divine will.
I want this shoe, but as a sandal: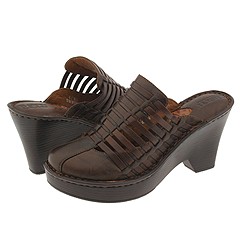 Or this shoe, but made of real leather, in a beautiful dark brown, with a comfortable heel height (3" would be perfect):
I love the huarache/woven leather thing going down right now but I'd love it more if those sandals were available in a closed-toe option.  Par example:
The Born Osorio is nearly perfect, and nearly closed toe, but not.  It's also a towering 4" of heel that I may just be able to pull off, but then again I might fall to my death on the subway stairs while wearing them and that would be tragic and senseless.
Sigh.  Why don't I have my own custom-huarache wedge heel sandal maker named Juan who can fashion the sandal of my dreams while I am served margaritas on some lovely Mexican beach? 
Why, I ask you!