Contrary to what you may be thinking at the moment, this is not an accessories blog, though lately I seem to be more inspired by accessories than clothing.  I'm sure that's soon to change, but for now... whilst flipping through my Harper's Bazaar, I came across this lovely, lovely handbag in Prada's Spring 08 ads: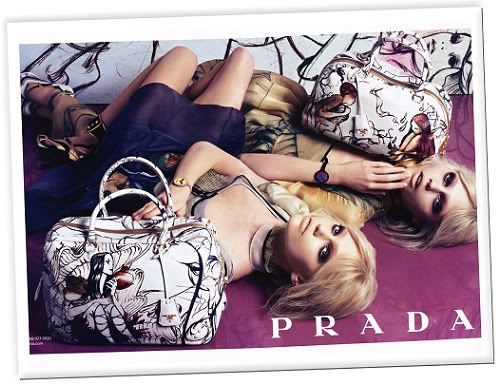 Don't know about you, but I love illustration of this particular style and even though I'm generally a) not a huge handbag whore and b) not a particular Prada handbag fan (like, seriously?  charging $2K for a nylon handbag?  don't think so!) these bags completely appeal to me and I'm a little bit obsessed at the moment.  I'm sure they're priced ridiculously but for now they're pretty to look at.  I'd really like to know who the artist is.  I'm sure I'll read more about them as celebrities start carrying them and then the fashionistas declare them to be so. over.  :)
I trolled the internet high and low for a picture of the bag and this was the only blog I found, so thanks for the pic and go check that shit out.
Update:  In a serendipitious moment of synchronicity, as it turns out, my boyfriend had purchased two James Jean prints from his Recess series, and had mentioned that Mr. Jean was doing some work for Prada.  I thought, hmmm... interesting, and continued on my merry way.  I thought his illustration was beautiful, but figured it was an ad, never realizing that Prada would use it on everything from clothes to handbags.  Beautifully done.