I guess I'm not a proper fashion blogger, since that title assumes that I would post pictures of myself in various outfits, and considering my job and my life, well... that's just not gonna happen.  But I can *tell* you what I wore, and I like today's outfit, even though it's not super exciting save for one tiny detail:  my awesome tights.  I got a super special deal on these Happy Tights in red:  
and I'm wearing them today with:
and last but not least, utterly boring boots: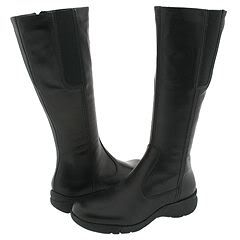 The reason for the boring boots is, alas, practicality (it's raining; they're waterproof).  With this outfit, I'd prefer to have worn these: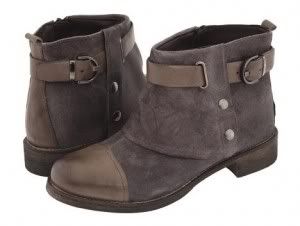 But they're suede and the rainy weather is staying in NYC today, so I had to trot out in my LaCanadienne rain boots. 
As to why I'm sharing this outfit with you, well... it was a challenge to come up with something that would go with those tights.  In my head I loved them so much, and then when I mentally tried to combine it with something, nothing worked.  The interwebs were also no help--most of the places I looked for inspiration just paired similar tights with a black dress.  Bo-ring.  But I have that great denim skirt (mine is in a bit more of a faded wash than the pic above, and it has zippers instead of button pockets) and I realized it'd go perfectly.  But I was definitely flummoxed on what to wear up top.  The white button-down and grey cardigan go really well with the faded blue of the skirt and the bright red of the tights, so I'm glad my instincts were right.
As to my post on The Last Mistress and its glorious costuming, it'll have to wait since Photobucket wouldn't let me upload the pictures.  But it's on its way.